e-news: October Update
Hi there,
What a busy time it is for early learning in Australia. Hold on this is a long one (only because sooo much has happened!!)
The Federal Government's $4.5 billion Cheaper Childcare bill was tabled in parliament this month, which is great news for 1.26million families who can expect to see substantial reductions in out of pocket costs from next July. We are especially excited about the changes for First Nations children who will now have access to 2 days of early learning. We would love to see these measures extended to include other groups of vulnerable and disadvantaged children. The bill has been referred to a Senate Inquiry which will hear from peak bodies, service providers and a range of organisations and advocates over the coming weeks.
Late last week Prime Minister Anthony Albanese announced that government funded Paid Parental Leave will be increased by six weeks to a total of 26 weeks, phased in by 2026. This was one of the key recommendations to come from the Jobs and Skills Summit held last month. Our campaign partners at The Parenthood and Thrive by Five advocated strongly for these increases.
The South Australian Government has appointed former Prime Minister Julia Gillard to lead South Australia's early education system Royal Commission. The Terms of Reference for the Commission are contained in the Best Start for Every Child election commitment from the SA Labor Government. We are excited to see this election commitment underway!
Next week is budget week in Canberra our friends at Thrive by Five are asking us all to send Treasurer Chalmers an email, calling on him to deliver on key reforms for early learning and childcare. and take action on early childhood education reform to ensure our children get the best start in life.
Treasurer Jim Chalmers is in the process of determining funding allocation for different parts of the economy. That's why he needs to hear from us now – so that he knows Australians want him to take action on early childhood education reform to ensure our children get the best start in life.

CLICK HERE TO SEND AN EMAIL

Lastly, but definitely not least, Early Childhood Australia has celebrated its fifth Early Learning Matters week this week kicked off by Minister for Early Childhood Education, Hon Dr Anne Aly attending Goodstart Early Learning Nollamara in Western Australia last Friday. We love that Dr Aly thinks 'One of the greatest things about (her) job as Minister is visiting early childhood education and care centres and seeing the important work educators do and how much the children love their teachers.'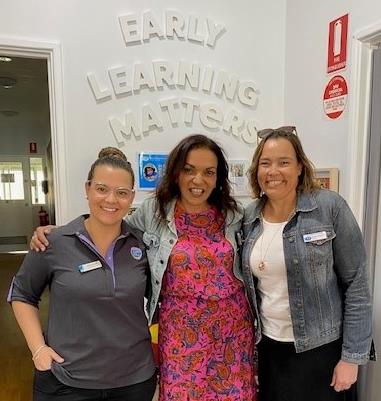 We look forward to your ongoing support to make a difference in the lives of Australian children.
Together we can make a difference for early learning in Australia.
From Kelly MacDonald
~ For the Smart Start campaign
P.S Do you know someone who wants to help make a difference? Forward this email on, invite them to join our campaign, or share our Facebook page.